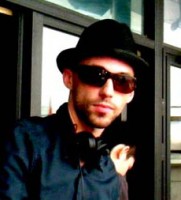 Jacob Unverzagt born in 1977 in Hamburg (Germany), has been passionately pursuing a career as a DJ and artist for more than 15 years.
After having left his foot print in some of the world's most major music hubs, he has finally found his home in Shanghai. Over the last 3 years Jacob has been working hard building a name for himself, and is now considered a hot commodity in the local music scene.
Jacob's journey began in 1992 when he discovered the world of multimedia through several film production, music labels and photography internships. This experience combined with his creative spirit and passion for music soon led him to embark on a journey as a DJ.
He took his first step in Hamburg 1992 where he managed to influence the local music movement with his fresh and innovative beats. He then went over to Europe's most influential music capital, Berlin. There he was welcomed at top rated clubs such as Tresor and Maria. He eventually made it to Berlin's most exciting musical event, the Love Parade.
Finally, yearning for a change and realizing the potential in the grass roots movement quickly developing in Asia, Jacob decided to base himself in Shanghai.
In 2011 he took over the music & marketing direction of the Panic Room, a Shanghai up and comer. Soon after he took control of Shiva Lounge, considered by many to be Shanghai's House & Techno Mecca. Under his management direction Shiva has reinvented itself artistically while also maximizing returns. Today he has his weekly radio show "Hot Pot" on Udance radio station. He also creates different kinds of events. Currently he's the resident DJ for M1NT – Shanghai's club No.1.
Jacob's passion lies in the following musical genres: Deep & TekHouse, Techno, NuDisco, Drum & Bass, Hip Hop & Oldschool, 80's & Disco,
70's Funk & Soul, Chill-Out & Easy Listening, Brazil
Shanghai, China:
M1NT, Bar Rouge, Club MAO, Shelter, SIN, Barbarossa, Logo, Muse 1, Park 97, Shiva Lounge, Velvet Lounge, The Apartment, Siva, Cvrve Bar, Anar Lounge, Eden, Lola, Cvvee, Tang VIP, Drop, DADA, Departure10, Horizen, Lune, Fat Olive, Mao Livehouse, Kee Club, Brownstone, Geisha, Zeal, Lost Heaven, …
Special Events in Shanghai:
EXPO 2010 German Pavilion, Media Markt VIP Opening, Levi's Fashion Show, Hyatt On The Bund, Park Hyatt, The Roof, Xibo, Huawei VIP event, French Tuesdays at Ritz Carlton, Peninsula Hotel & The Apartment, Pool Party at Shanghai Nine Dragon Polo Club, Shanghai Yacht Club…
Hong Kong: Armani Prive
Beijing, China:
Punk Bar, Vic's, Suzie Wong Hangzhou, China:
Club 88 Other cities:
Xiamen, Qianzhou, Wuxi, Tianjin, Suzhou…
Hamburg, Germany:
Front, La Cage, Schlachthof, Le Fonque, Mojo Club, Indochine, Rote Flora, Soul Kitchen, China Lounge…
Berlin, Germany:
Tresor, Maria, Kurvenstar, H2O, Hoppetosse, Mal Zwei, Roter Salon, Ambulance, Avastar, Bellini Lounge, Café Schönbrunn, Cassiopeia, Bungalow Club, Floating Lounge, Waldohreule, Club der Republik, KitKat, Love Parade…
Zurich, Switzerland:
UG and Toni Molkerei
Ho Chi Minh City, Vietnam:
Club paradise 102 & 396
Bangkok, Thailand:
UB Radiostation, Songkran Festival KaoSan Rd., JJ Market, Black Pagoda, Glow Club, Bash, Q-Bar
Koh Samui/Koh Phangan, Thailand:
Green Mango, Six Senses Resort, Loi Lay, Full Moon Party